The best things come in small packages
You don't need full, bloated frameworks and hundreds of stacks to build amazing websites.
Source offers an alternative approach to page building in RapidWeaver / Stacks by providing
phenomenal power and flexibility
in a gloriously lightweight, modern and efficient 'micro' framework.
And not only that....it's
completely FREE
to get started!
Source contains the most powerful layout stacks available for RapidWeaver/Stacks. No matter what design and page layout you want to go with, Source has your back. The only barrier is your imagination.
And if you find starting with a blank page daunting then we have countless demo files and projects to get you off to a flying start!
Powerful collection of stacks
Source (and the Addon pack) contain around 25 stacks that are spectacularly powerful and flexible - empowering you to create any web page layout that you can imagine! You will only need to turn to the Stacks Marketplace for specialist stacks that provide particular functionality.
If Google cares then so should you
Traditional frameworks (e.g. those based on Bootstrap / Foundation) throw the kitchen sink at each page with tons of redundant code that does nothing but slow your pages down. Source approaches things from the other direction and adds only minimal, modern code to the page resulting in fast and efficient pages.
If ranking on Google is important to you then you really need to be thinking about how fast and efficient your web pages are. Run your site through Lighthouse or similar tools to see how it fares and see what improvements can be made.
There is simply no better framework to support you achieving top marks than Source.




Hundreds of users have converted from traditional frameworks and are now building incredible sites with Source.
Here are a few of our
favourite user reviews
.
Source is a magical framework
that is so minimalistic that you get lost in it's sheer power and function.
— Hector Campbell (Canada)
Source is an AMAZING framework for Rapidweaver. I have worked with many and, honestly, Source is unparalleled. Lightweight and fast but extremely powerful and versatile. Plus, the support is best-in-class.
Get Source...seriously!
Source has been a joy to work with! I've never gotten such
amazing scores in PageSpeed Insights
with any other theme. There's a bit of a learning curve involved, but it's definitely worth the investment! Highly recommended!
I have two other frameworks for Rapidweaver Foundry and Foundation 6 but Source is by far the
lightest, fastest, cheapest and easiest to use
and Stuart's support is second to none. Excellent all round especially with the add on stacks.
Here are a few more reasons that set Source apart and make it such a good choice in comparison to other frameworks.
Note: Hit the links to read a bit more about that topic!
Source caters for all needs and levels, from absolute beginners to web design professionals.
The real power in Source comes from its adoption of CSS Grid. This allows you to build amazing layouts and grid components (like this one!).
As Source isn't based on a slowly developing framework we can embrace changes early. Source was the first framework to support dark mode, CSS variables, CSS grid and more!
Good web pages are more than just pretty designs. The underlying html should be structured in a semantically correct way and also be completely accessible to those with special needs.
You can rest assured that Source has been built with all of this in mind.
Why spend hundreds of dollars on stacks when you can build amazing websites only with Source?! With the added benefit of improved page speeds.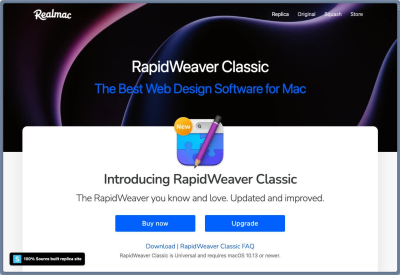 There are hundreds of add-on stacks available but with a bit of smart/lateral thinking you will find that you can get Source to achieve some pretty incredible things.

Source is the only framework that has its very own user manual! This exceptional reference guide and tutorial workbook covers every setting in every stack and shows you how to use them via dozens of fully explained steps and tutorials.
There is simply no better resource to master building websites with RapidWeaver / Stacks.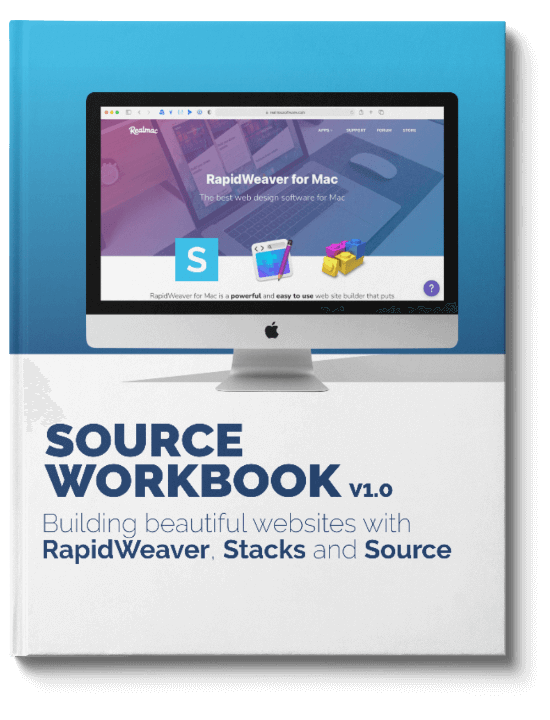 We have 2 full step-by-step video courses that take you through every single step of building beautiful web pages.
We have a dedicated knowledge base packed full of information and countless tips, tricks, demo projects and tutorials!
Set your site up completely via stack settings - no custom CSS / swatches required! Source is a genuinely 'no coding required' solution.
Source has been set up in such a way that it responds to the needs of its users. There are power tools there for those that want them (and that can be safely ignored by those that don't).
Source and the Addon pack give you around 25 stacks to build your sites with. The power and flexibility of these mean they can rival the far larger frameworks.
If you need additional functionality for your site (a slider or a gallery etc) you can turn to the Stacks marketplace for a best-in-class third party stack.
There are an ever-increasing number of third-party stacks that include seamless integration with Source (e.g. by tapping into its colour scheme or its underlying code base).
Examples of such stacks are below and include a blogging solution, an animation stack, a slider stack and a colour switching stack!
Let's just recap the key advantages of making Source your framework of choice.
Source is free
It's completey free to get started with Source. This means that you can get a good idea of what Source (and using a framework) is all about without spending a penny / dime!
Source is fast
If you are looking to get your page speeds and core vitals in order then there is simply no better option for RapidWeaver than Source. If Google cares about these things then so should you!
Source is modern
Source is powered by the latest CSS enabling powerful and extremely lightweight sites. Our Grid Plus stacks, based on CSS Grid, are the most powerful and flexible layout stacks available for RapidWeaver!
Source is supported
We offer full documentation, a manual(!), video courses, project files and a blog rammed full of tutorials. And of course there is email and our support forum too....
What are you waiting for?
All of the above was a long way of saying that there is no better, cheaper, faster or more efficient way to build amazing, modern websites with Stacks and RapidWeaver.
It's time to
build amazing websites
.
And it's good timing....we have some great deals available for you....